The Project
Lunch Brake is a business owned and operated by Achsha Jones, a native Detroit entrepreneur with a passion for making food accessible to everyone. With a 'catering-on-wheels' concept, Lunch Brake aims to provide food from local, Detroit based restaurants, for Metro Detroit workers in remote, industrial park areas, where access to healthy, fresh food options are limited.
For three months, I worked closely with Achsha and a team composed of two other designers, two Masters of Accounting students, and two Law students to help Lunch Brake get off the ground.
Final Deliverables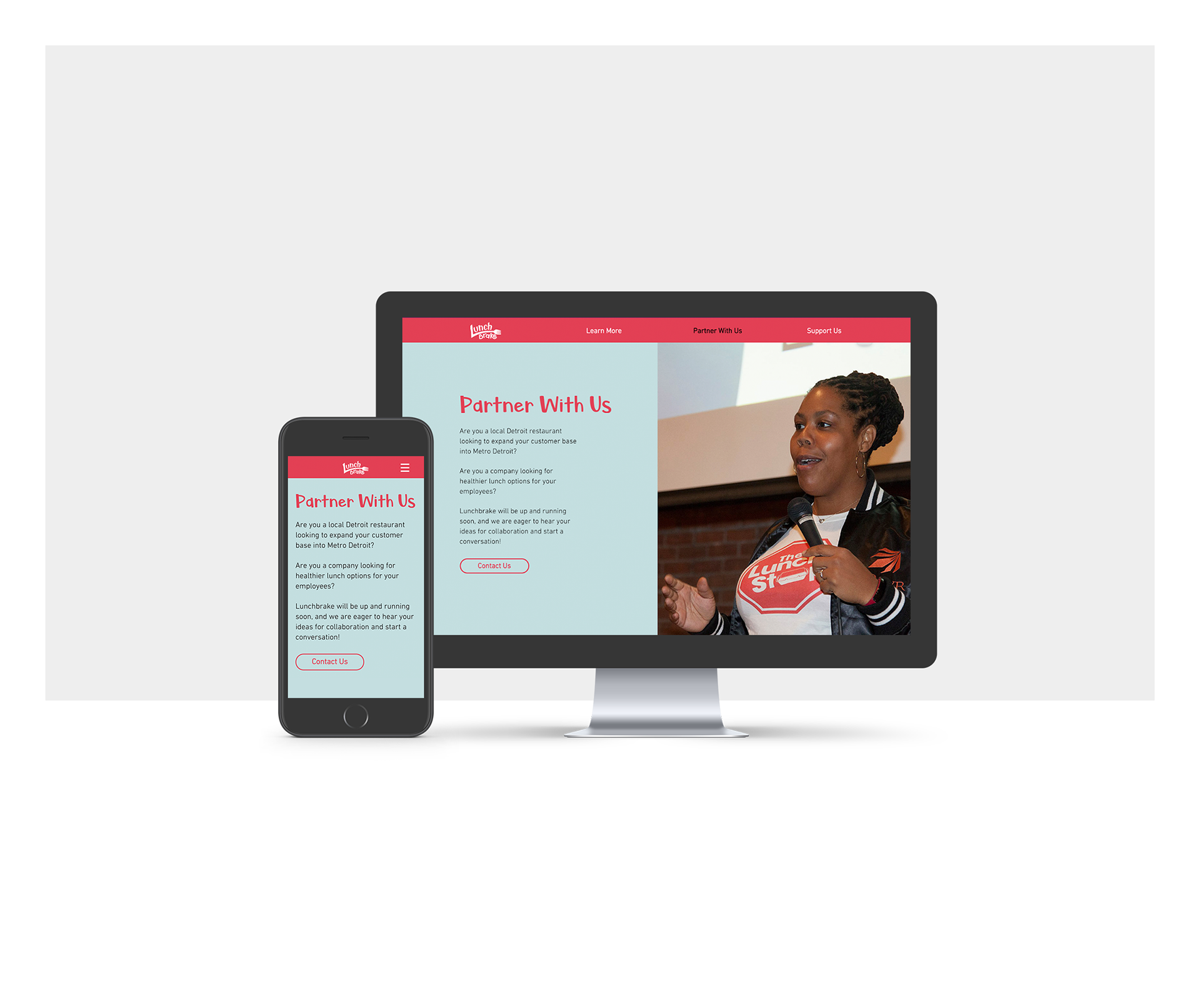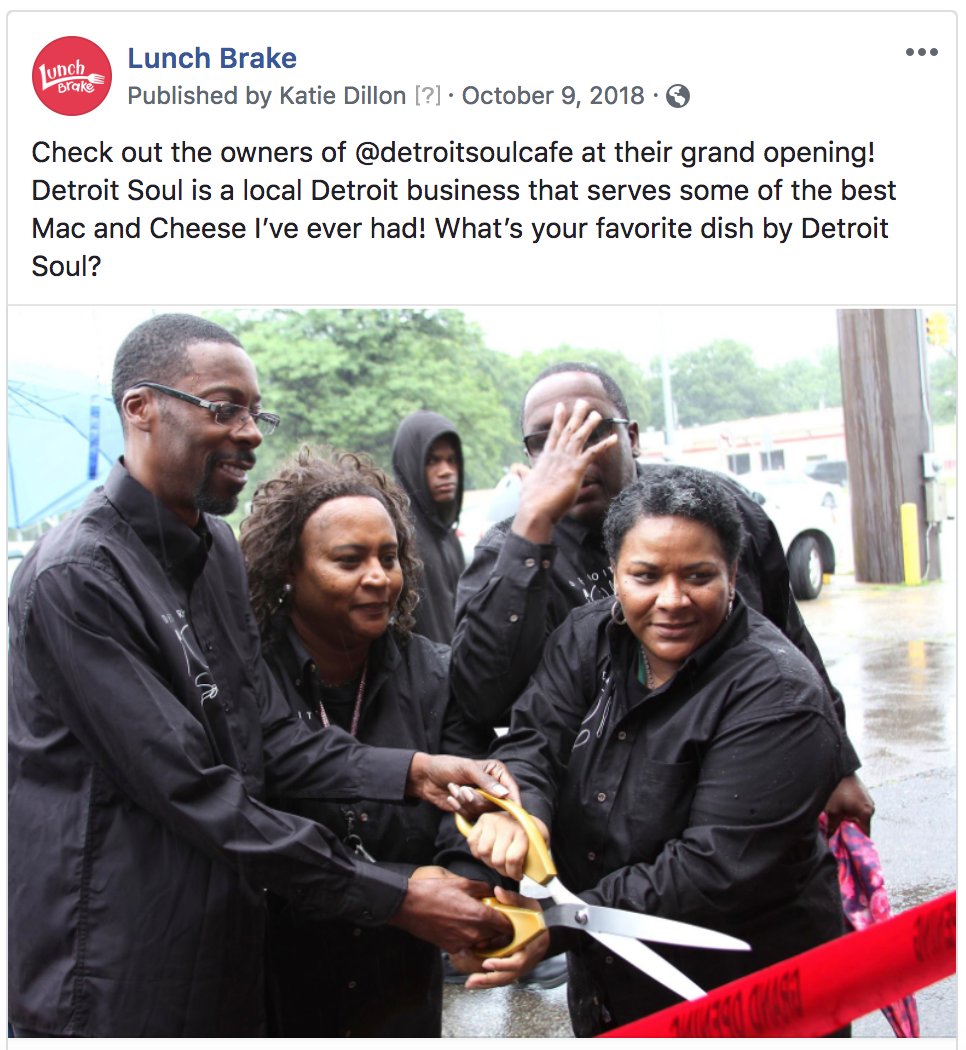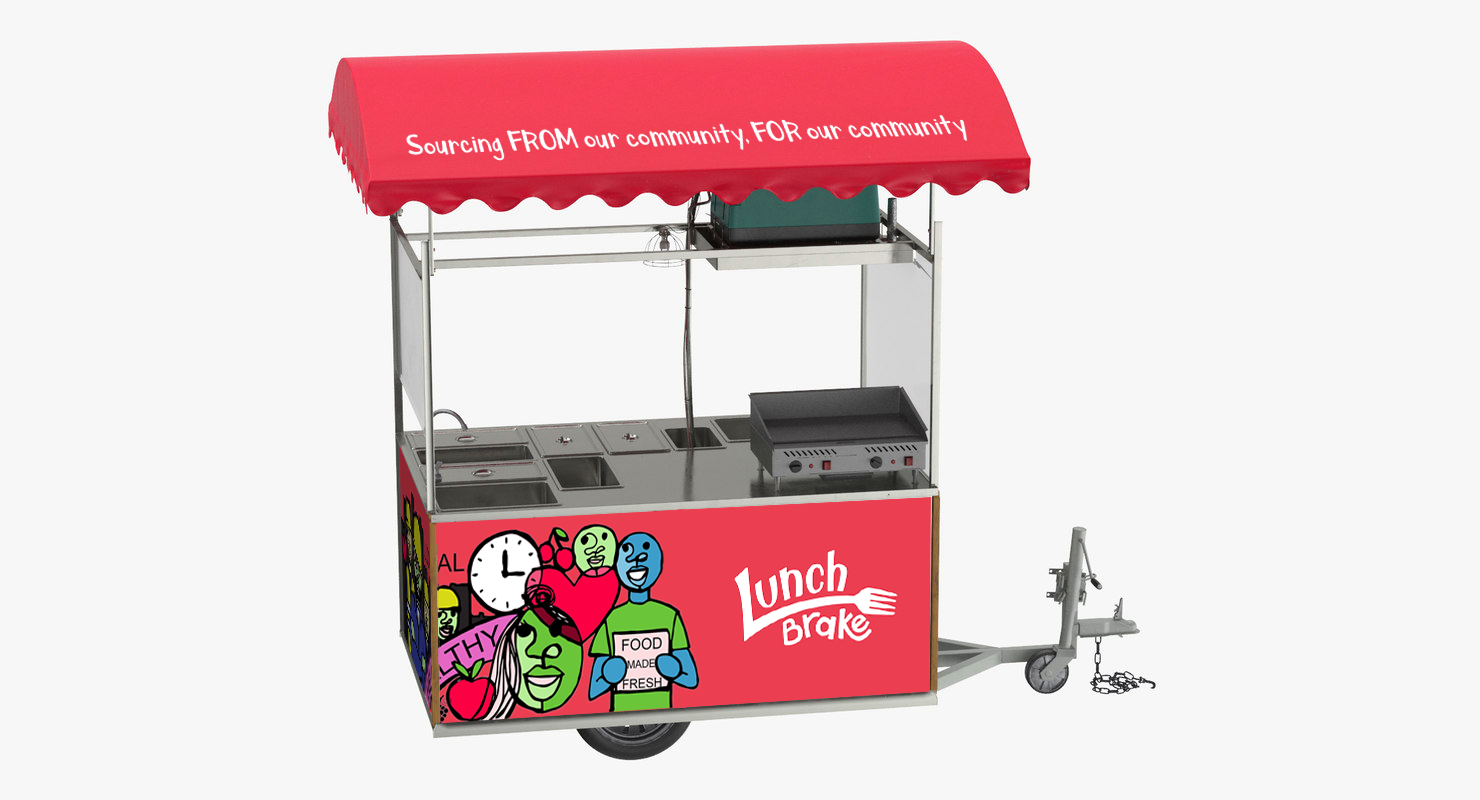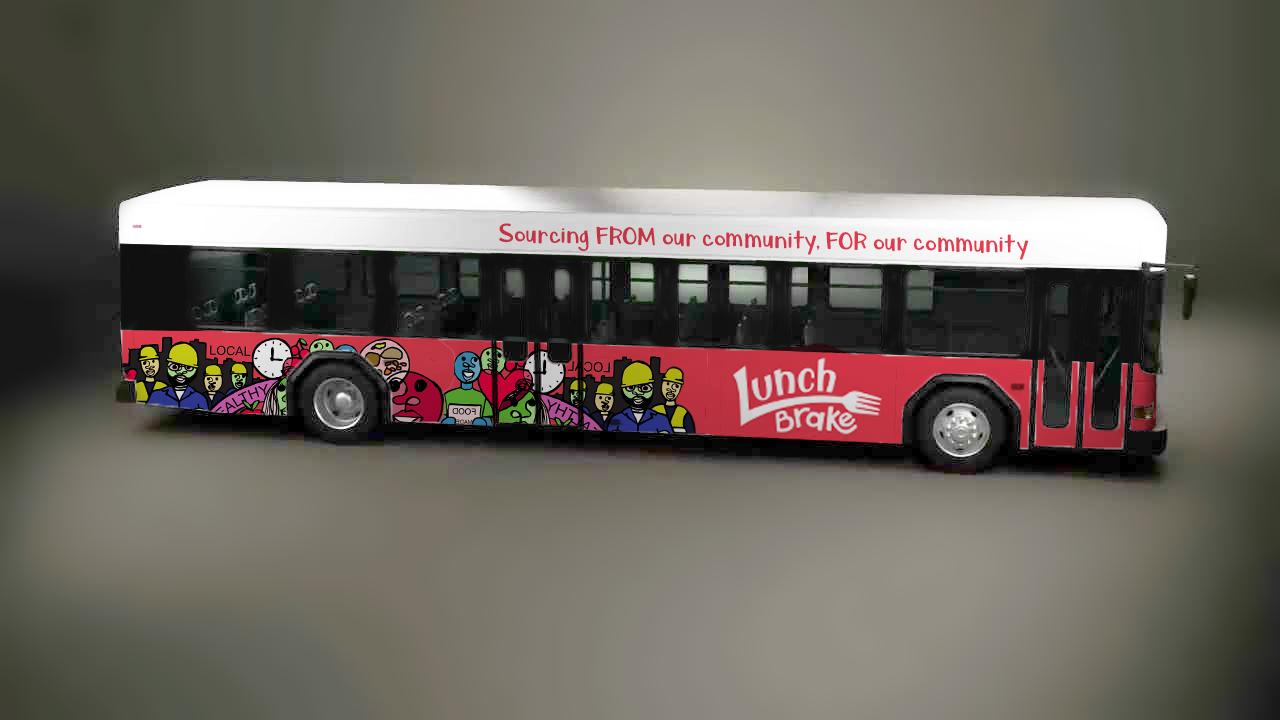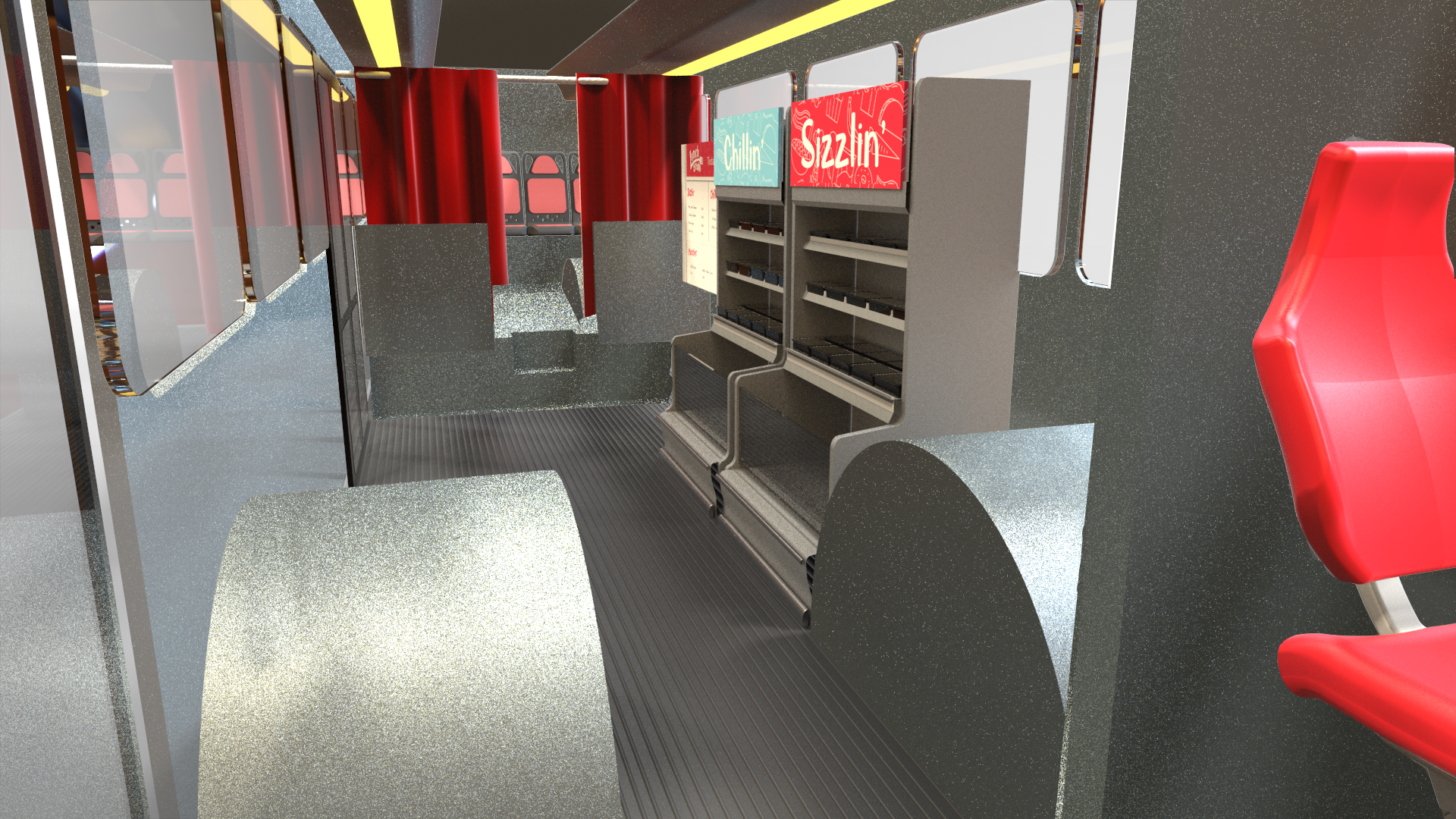 Scoping the Problem
To kick off this project, my team and I had to identify Achsha's current system, challenges, and goals. We used sticky notes to brainstorm as a team and group together relevant information. Ultimately we compiled a list of questions meant to fill in our gray areas in understanding.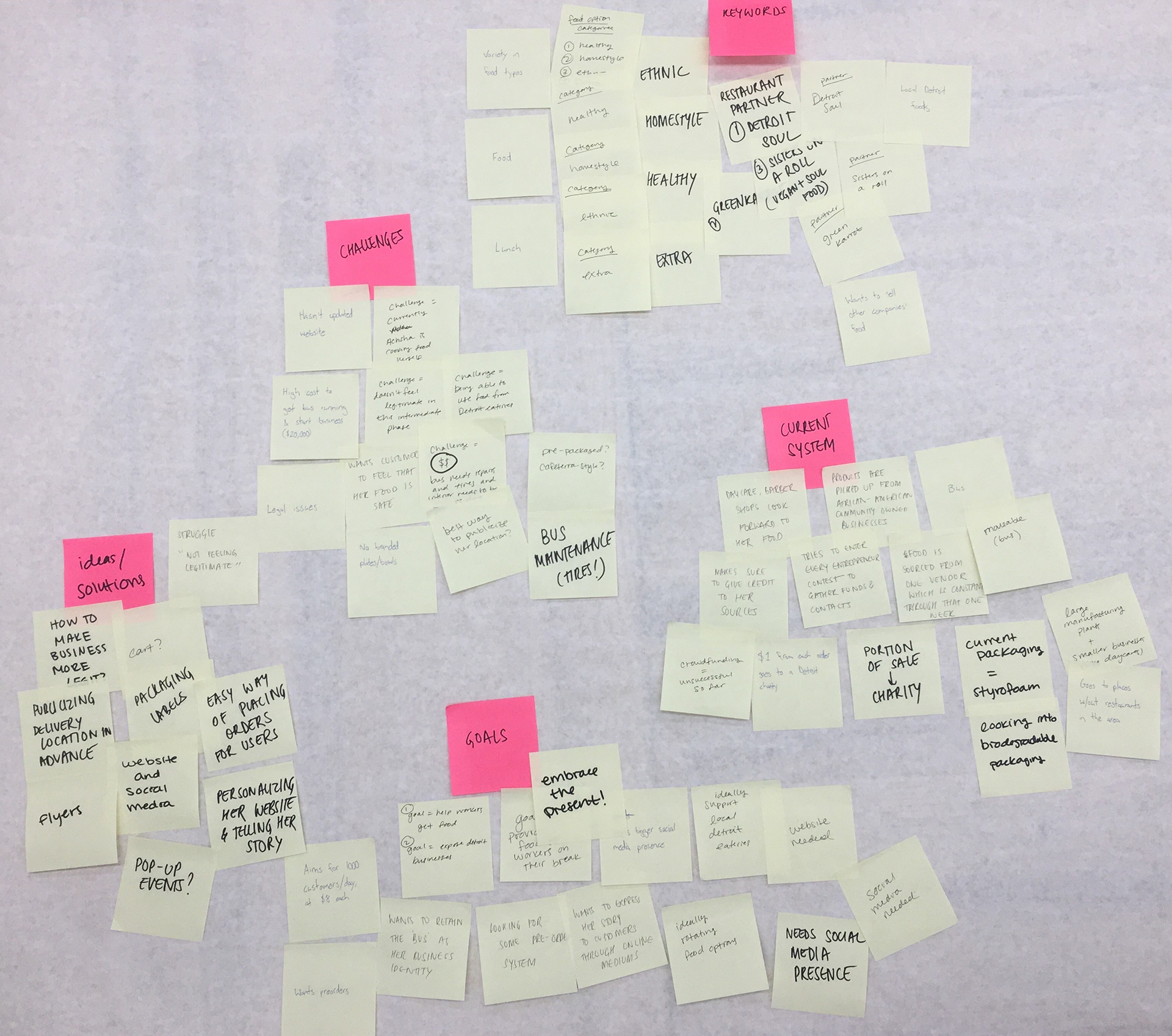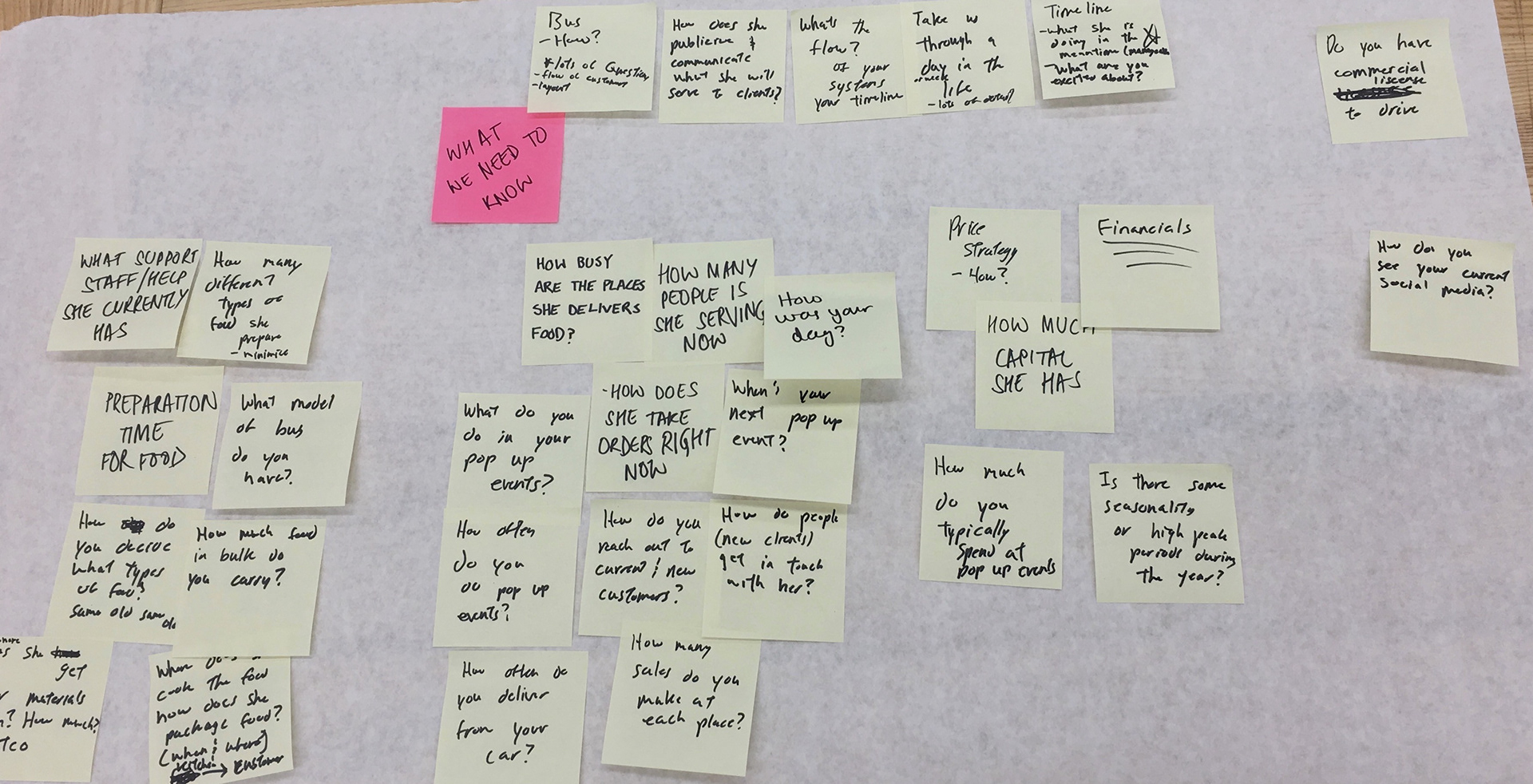 Social Media Strategy
Since DNEP students had worked with Achsha in a previous semester, we were able to use some of their branding work to inform our social media strategy. In particular, we looked at the keywords they had established to describe Lunch Brake and used them to craft social media posts that reflect Achsha/Lunch Brake's values.
We started by looking at each keyword individually and generating social media ideas that could demonstrate this keyword or value.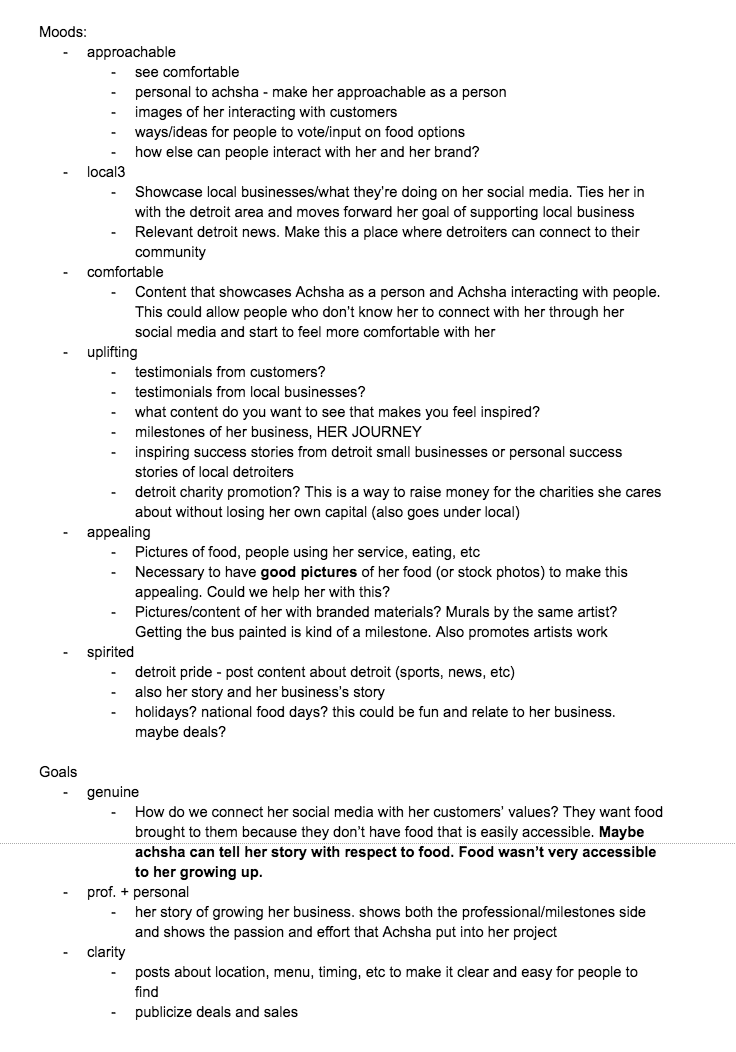 We then categorized the ideas from our brainstorm into 3 key categories of social media posting:
Food/practical
Lunch Brake's story
Community
We generated example posts and post templates within these three categories and displayed them on a sample Facebook page so Achsha could view and edit them easily.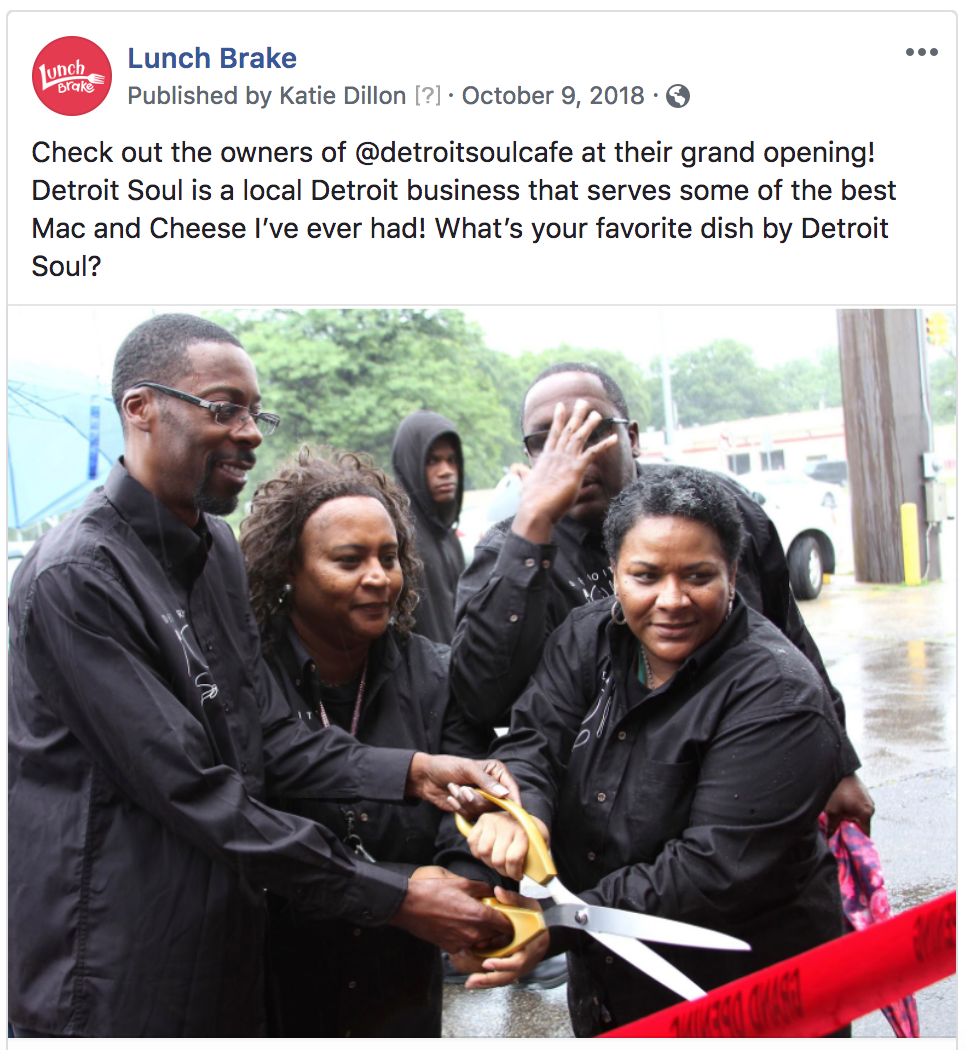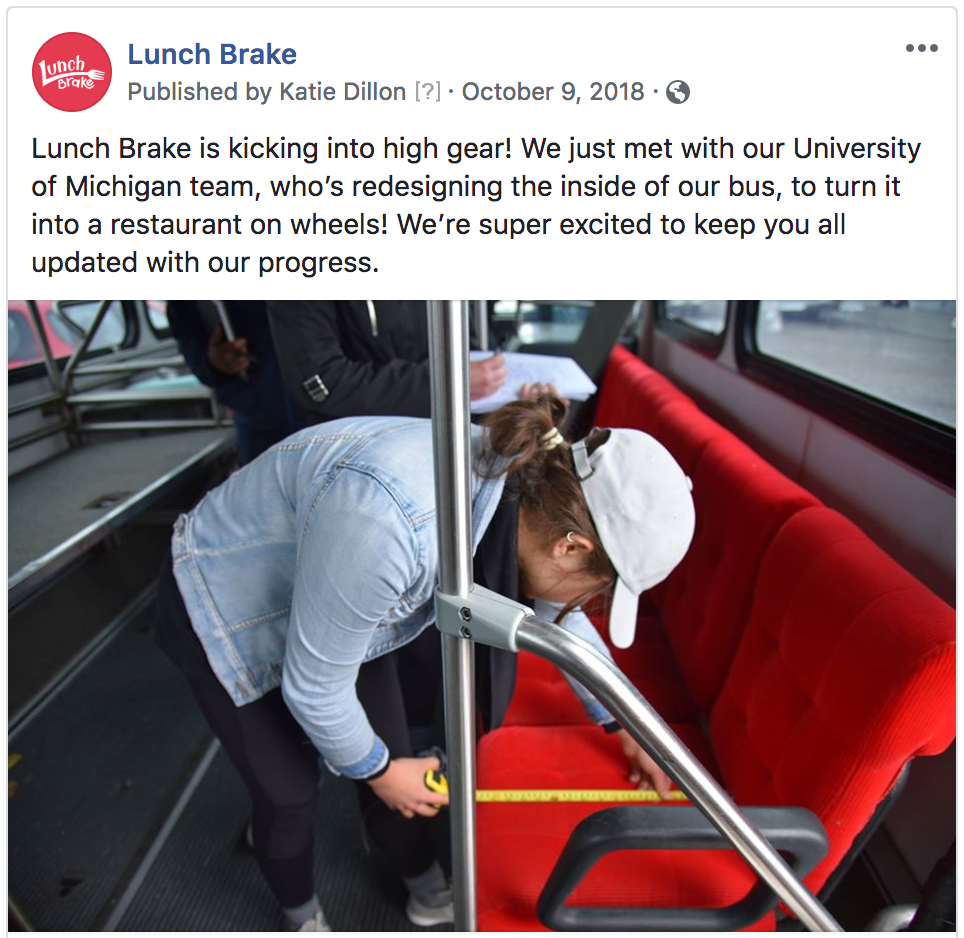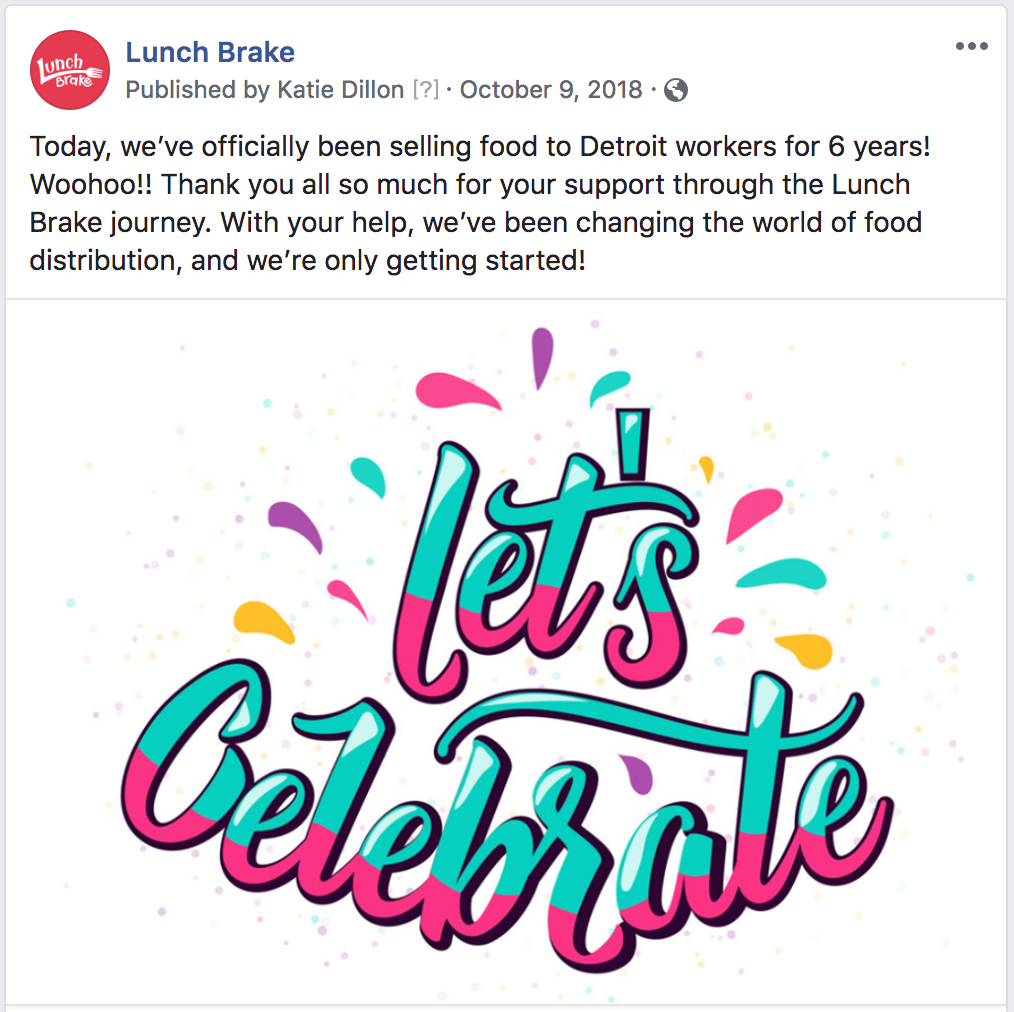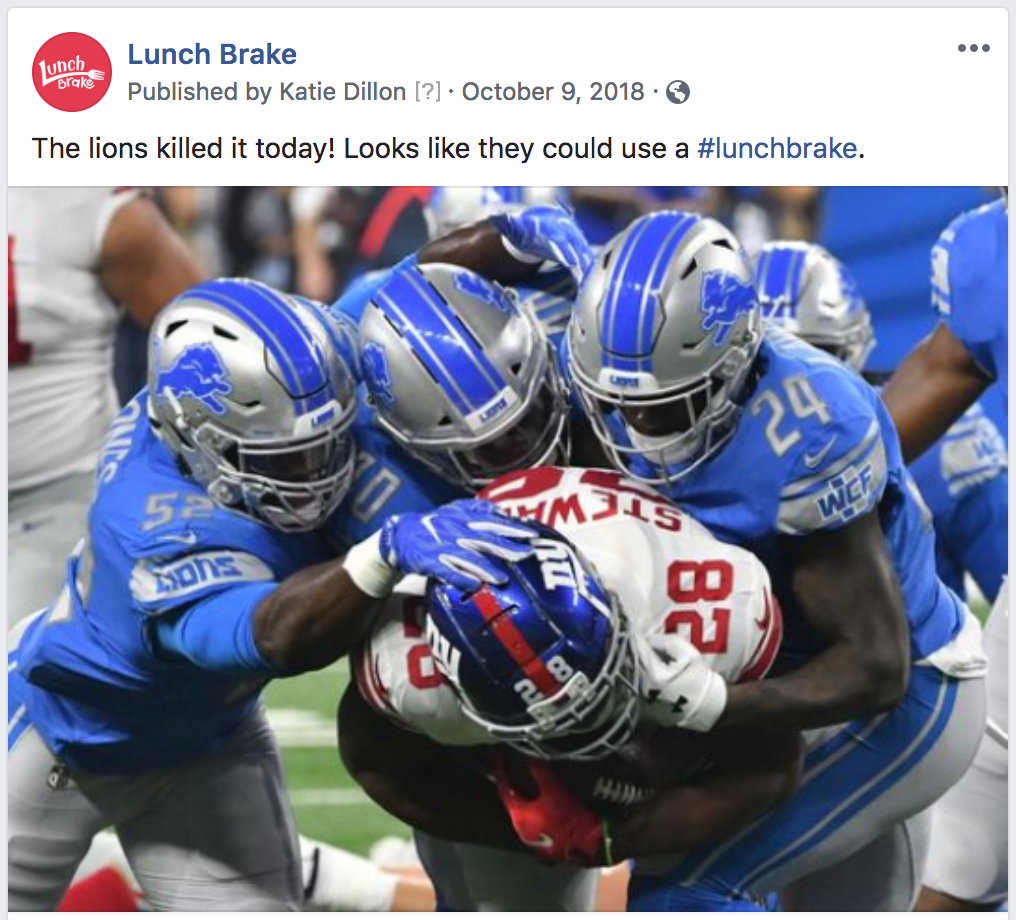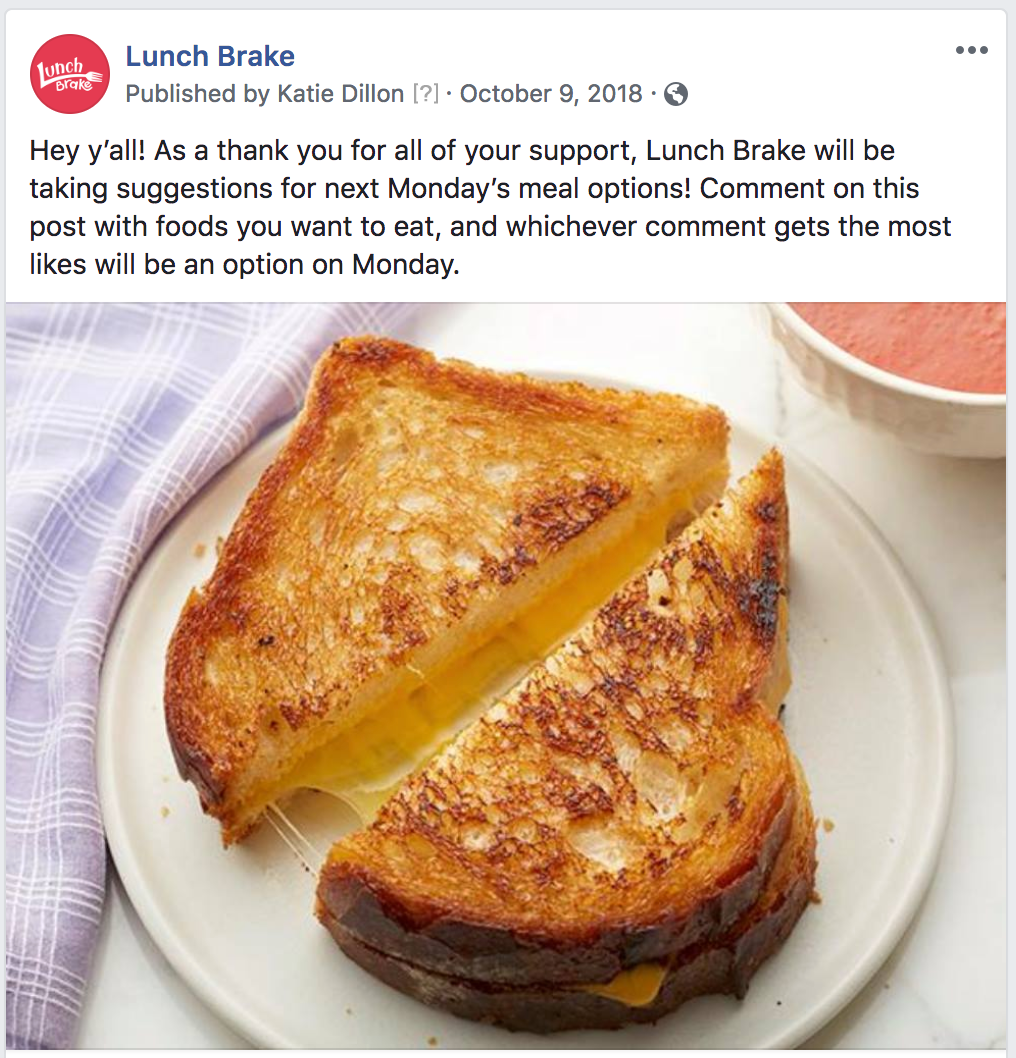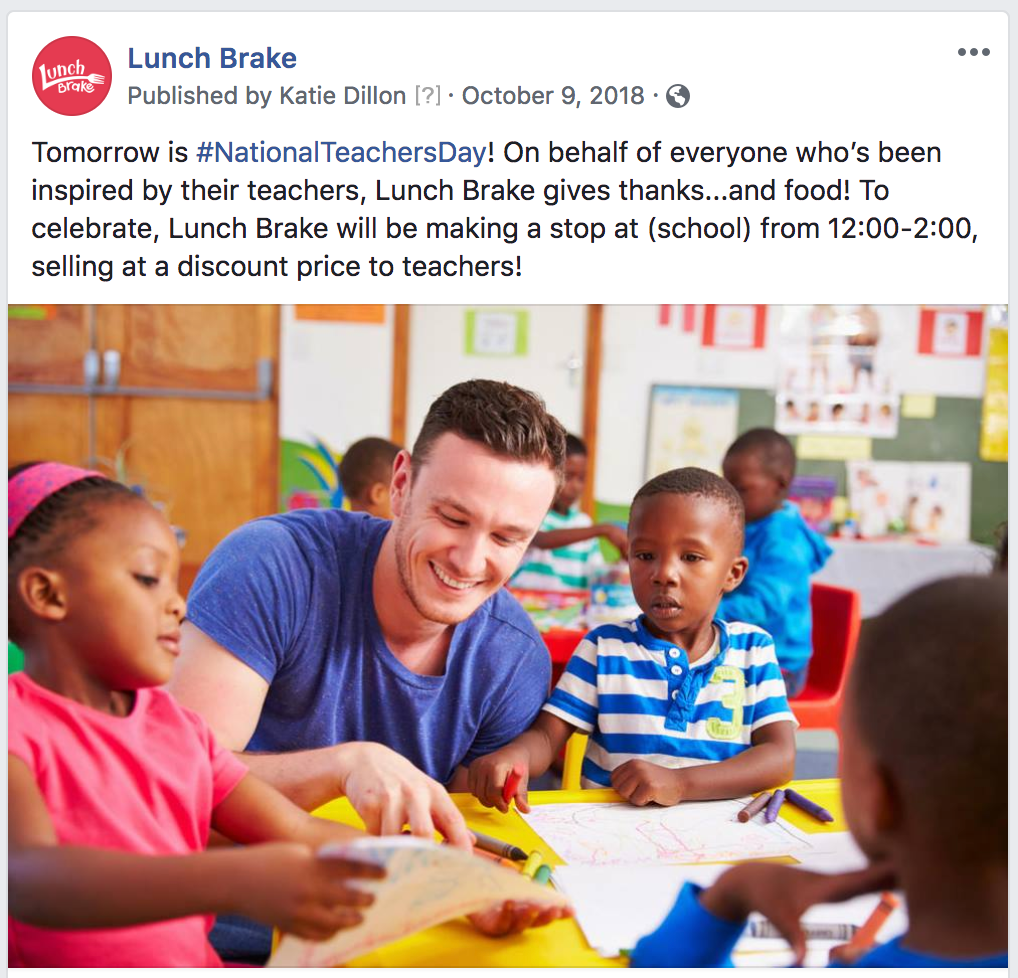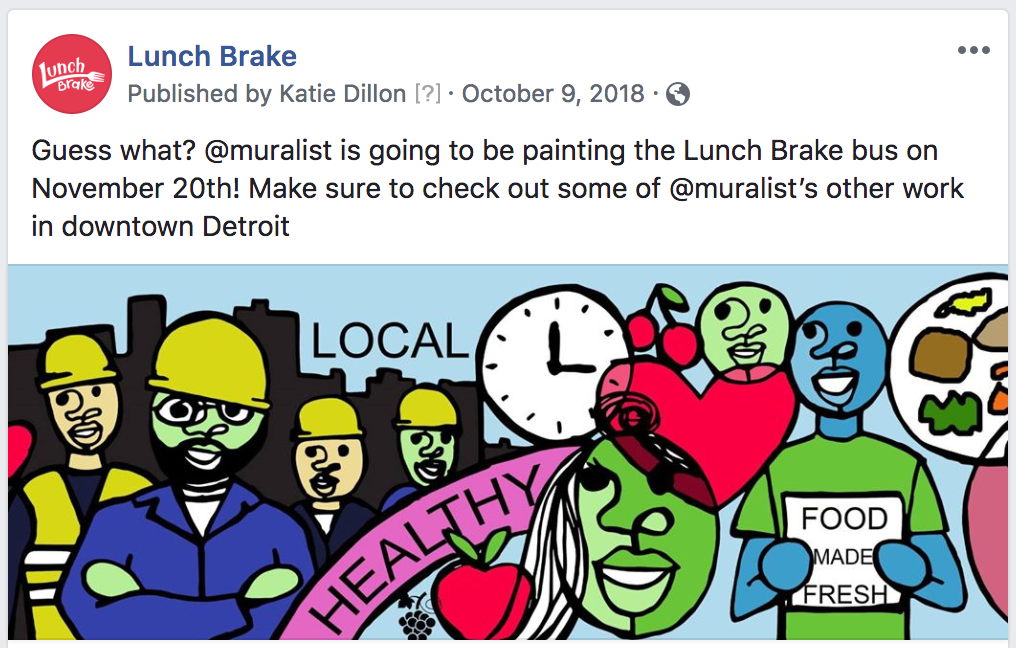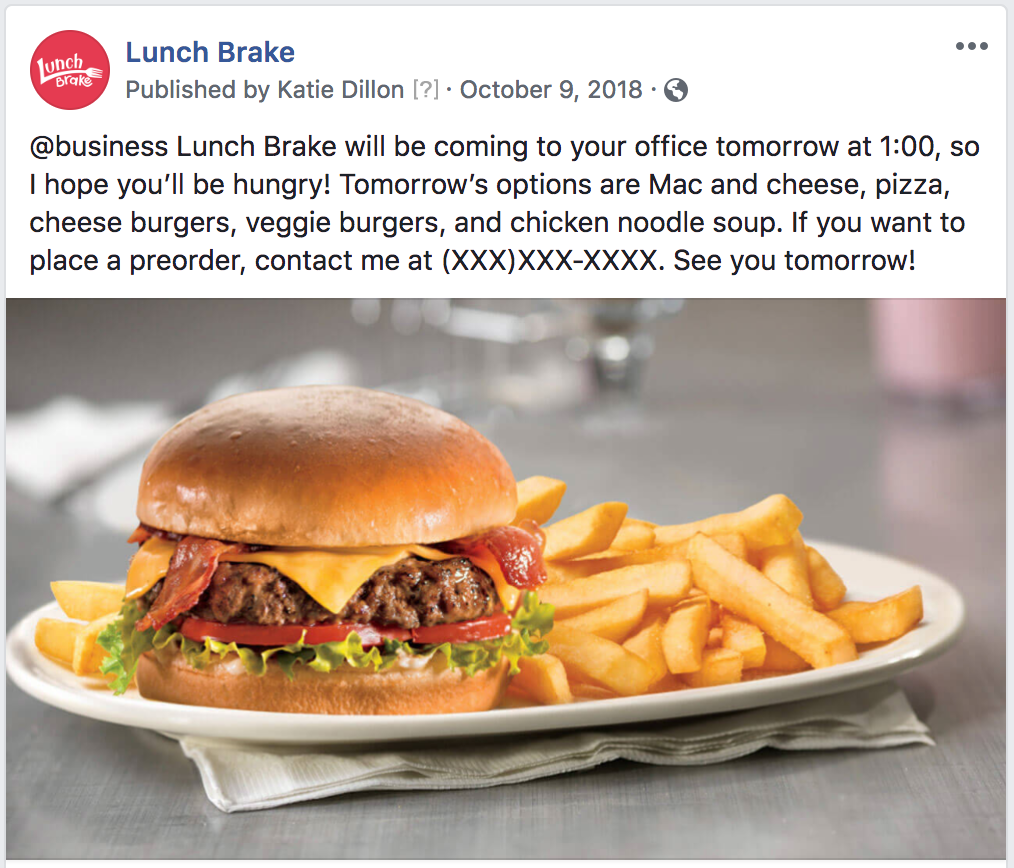 Journey Illustration
During this project, I spent most of my time on the journey illustration. Throughout our process, the purpose of this illustration changed. Initially, Achsha wanted a way to showcase her partnership with Detroit artist Phil Simpson, creator of the Smile brand. The two Detroiters met and instantly connected because of their entrepreneurial spirit, drive, and dream to create a better Detroit. They ultimately formed a strong professional bond and Phil offered to paint Achsha's bus. We offered to create a diagram or illustration to show their partnership as "native Detroiters navigating new Detroit." Ultimately, the purpose of this illustration changed, but we made sure to include Phil! You can see Phil in the final version hanging over the side of the bus and painting.
In the end, the purpose of our journey illustration was to demonstrate Achsha's vision for her company in a fun, visual way. This illustration could be shown to investors, donors, and partners to help them better see the future of Lunch Brake.
Our initial iterations depicted a slowly changing landscape which started as the city of Detroit and ultimately transformed into a factory outside of Detroit. I moved forward quickly with the first few iterations and began to add the same colors Phil used in his initial illustrations for Achsha's bus. These first few iterations looked unorganized, overly childish, and unfinished. I looked to my team for feedback and guidance.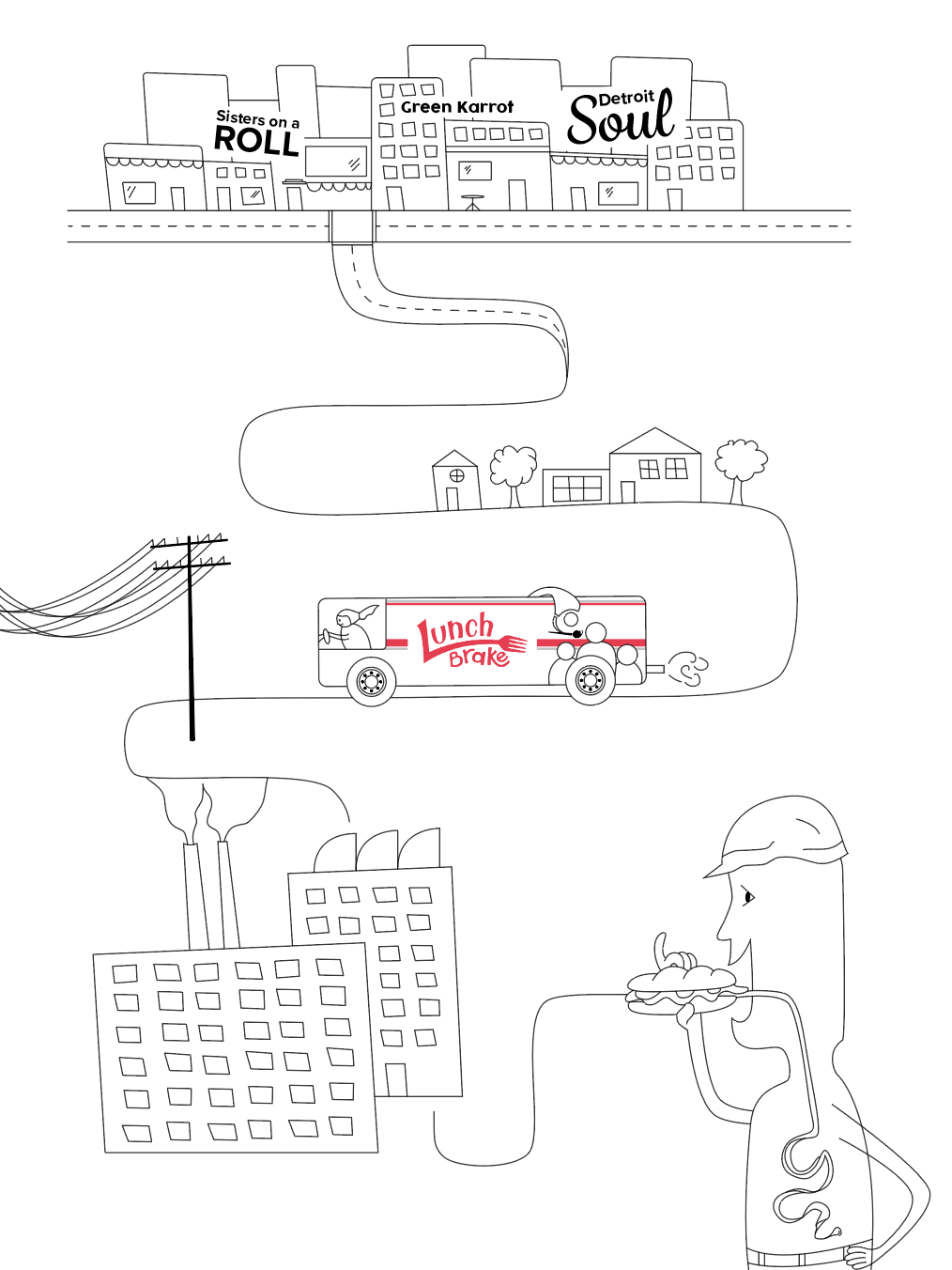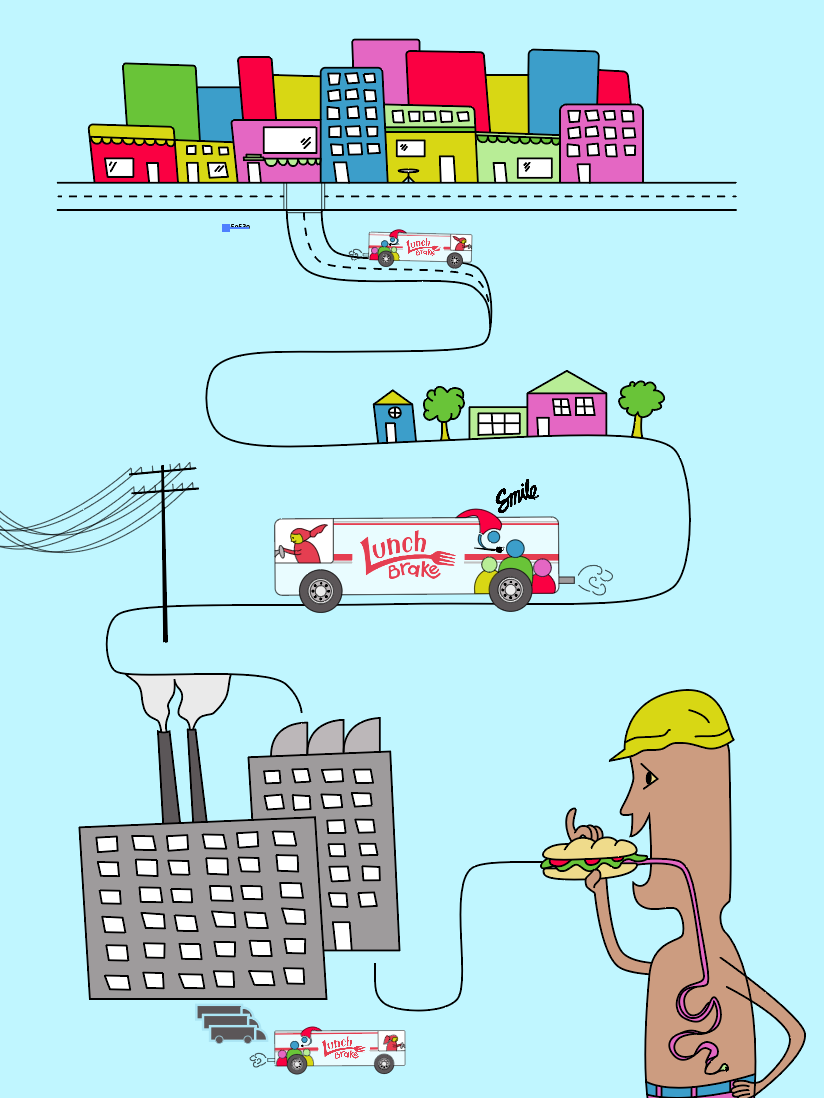 I looked at the first few iterations with my team and we decided that we needed to simplify. We marked up the latest version of our illustration, focusing specifically on what to take out. Through our discussion, we also noted a few different elements which were confusing or communicating a different message than the one we intended.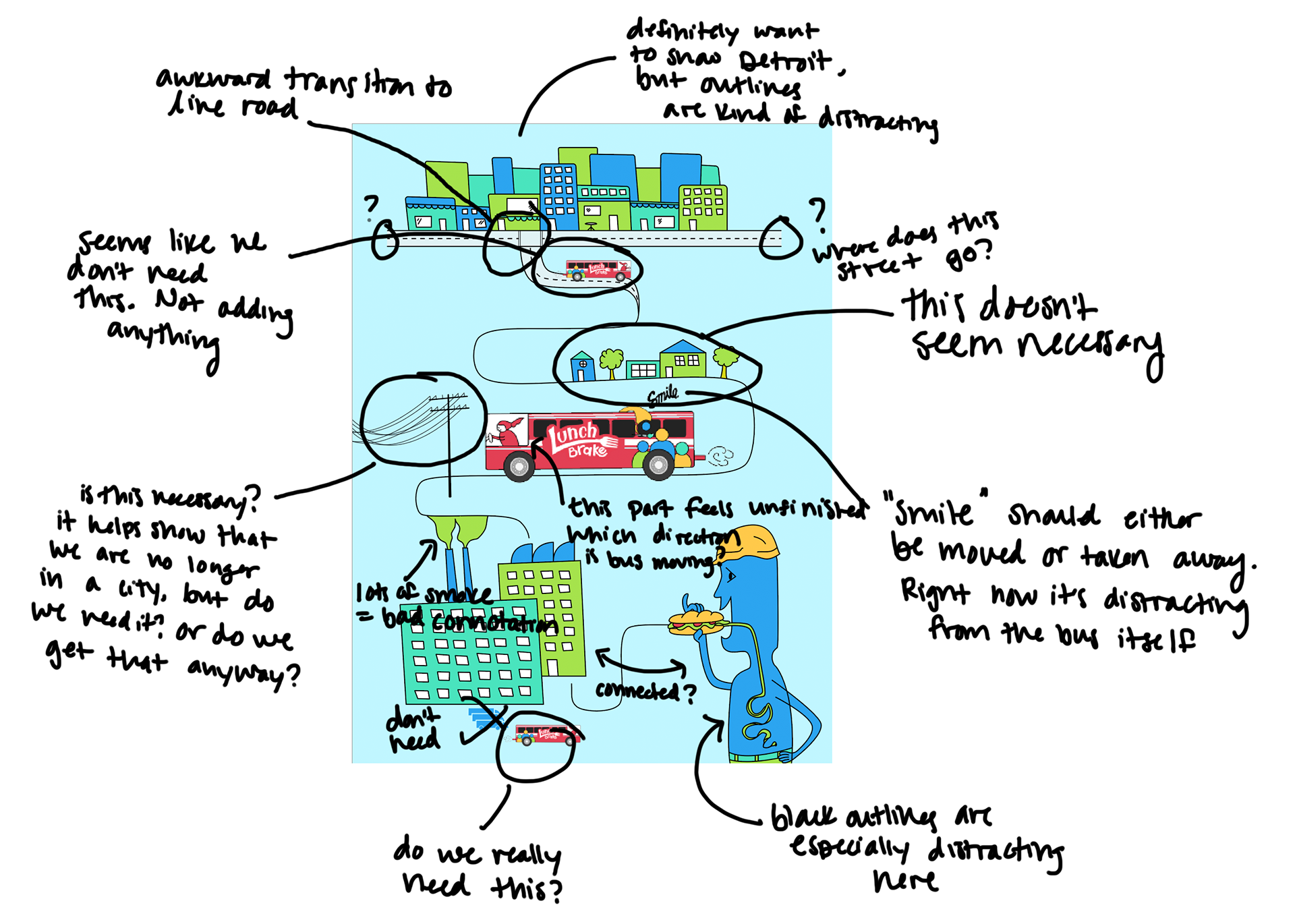 I based the next round of revisions on our group discussion and took out many of the unnecessary elements. The resulting illustration was much simpler, but still felt more childish than we intended. I felt stuck at this point because I didn't know how to move forward, keeping the illustration both fun and professional.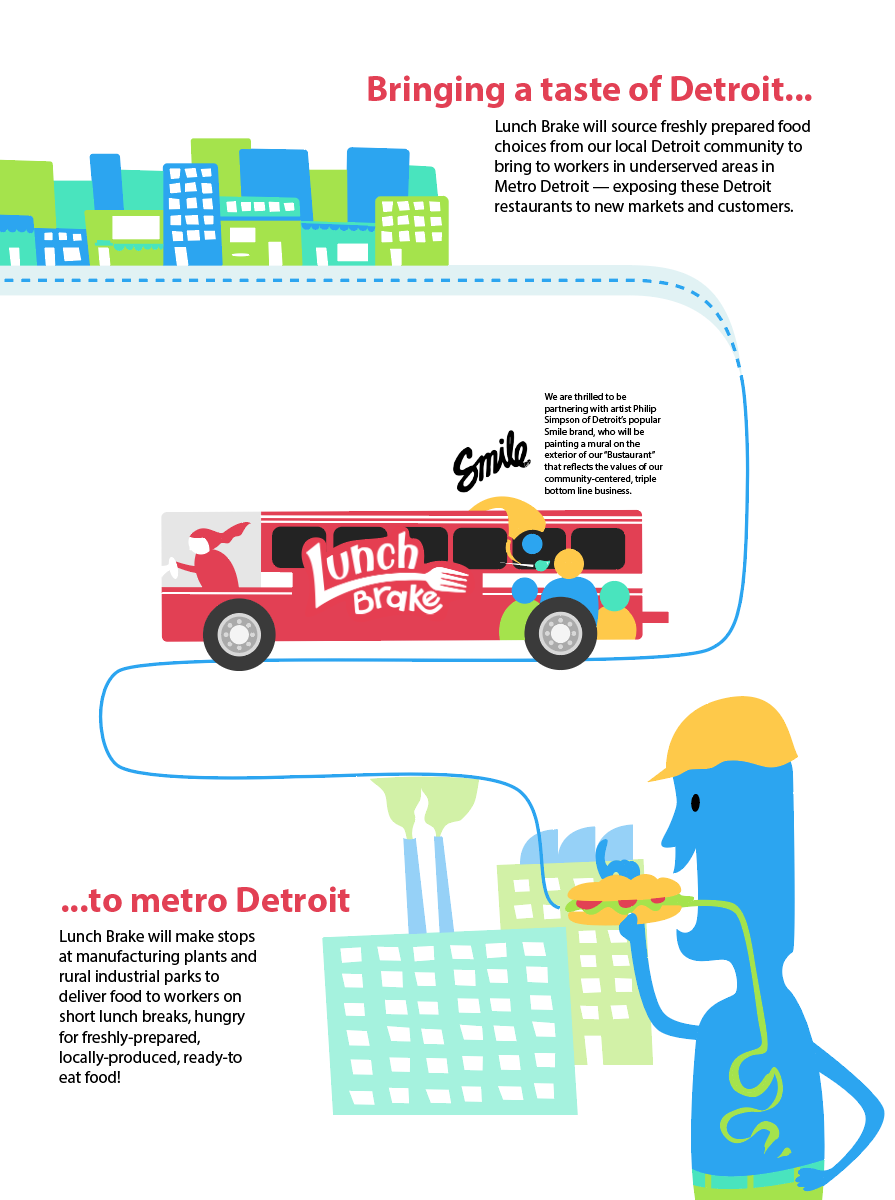 To get past this challenge, of my team members tried to create a new color scheme that would make the illustration more professional. Both of us created a revised illustration using this color scheme.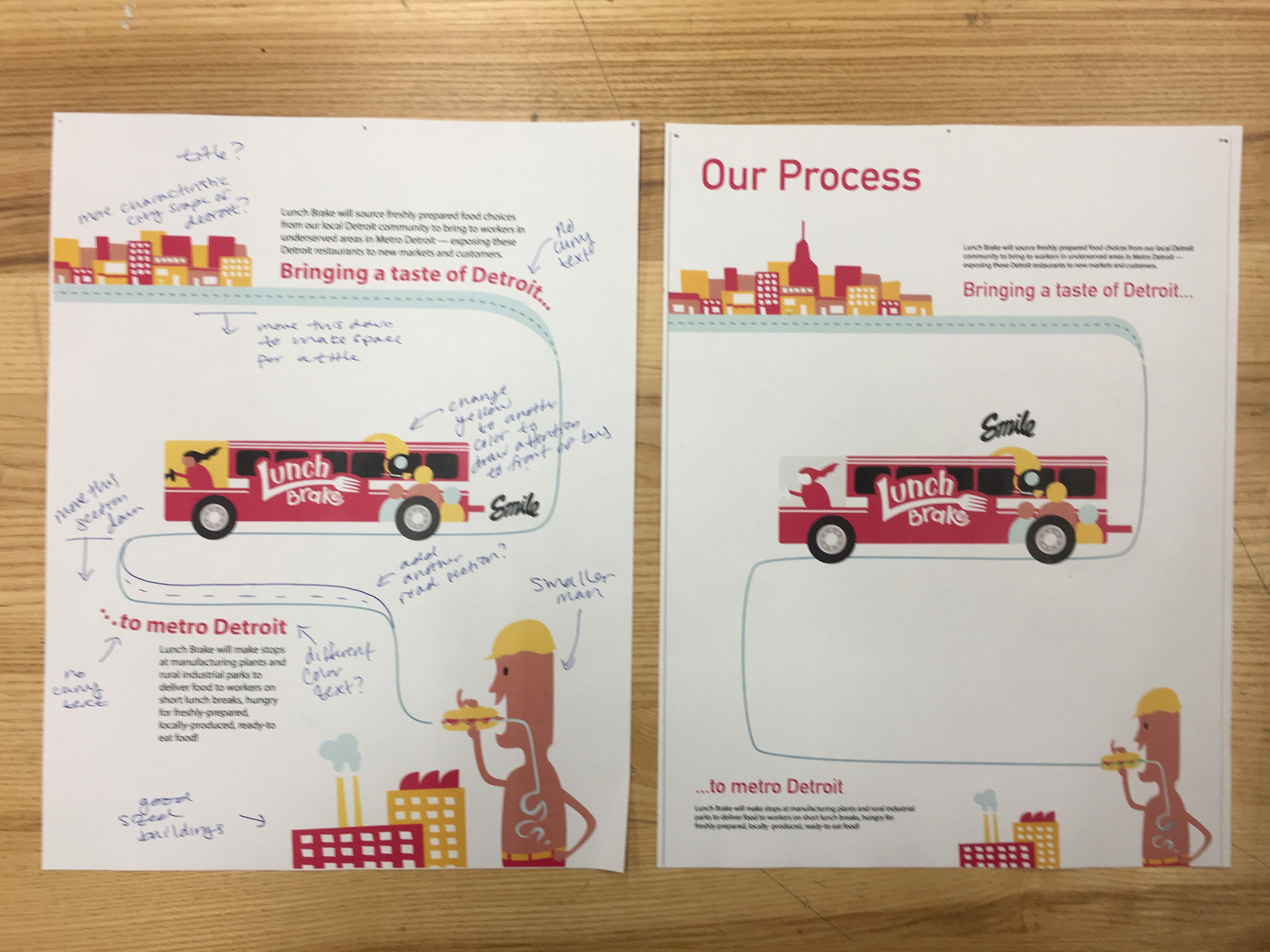 I made a few more revisions based on our critique and came up with a version that we were almost happy with. However, in this version, we found that the reader skipped over the first paragraph of text. How could we direct the reader's eye through all of the text on the page?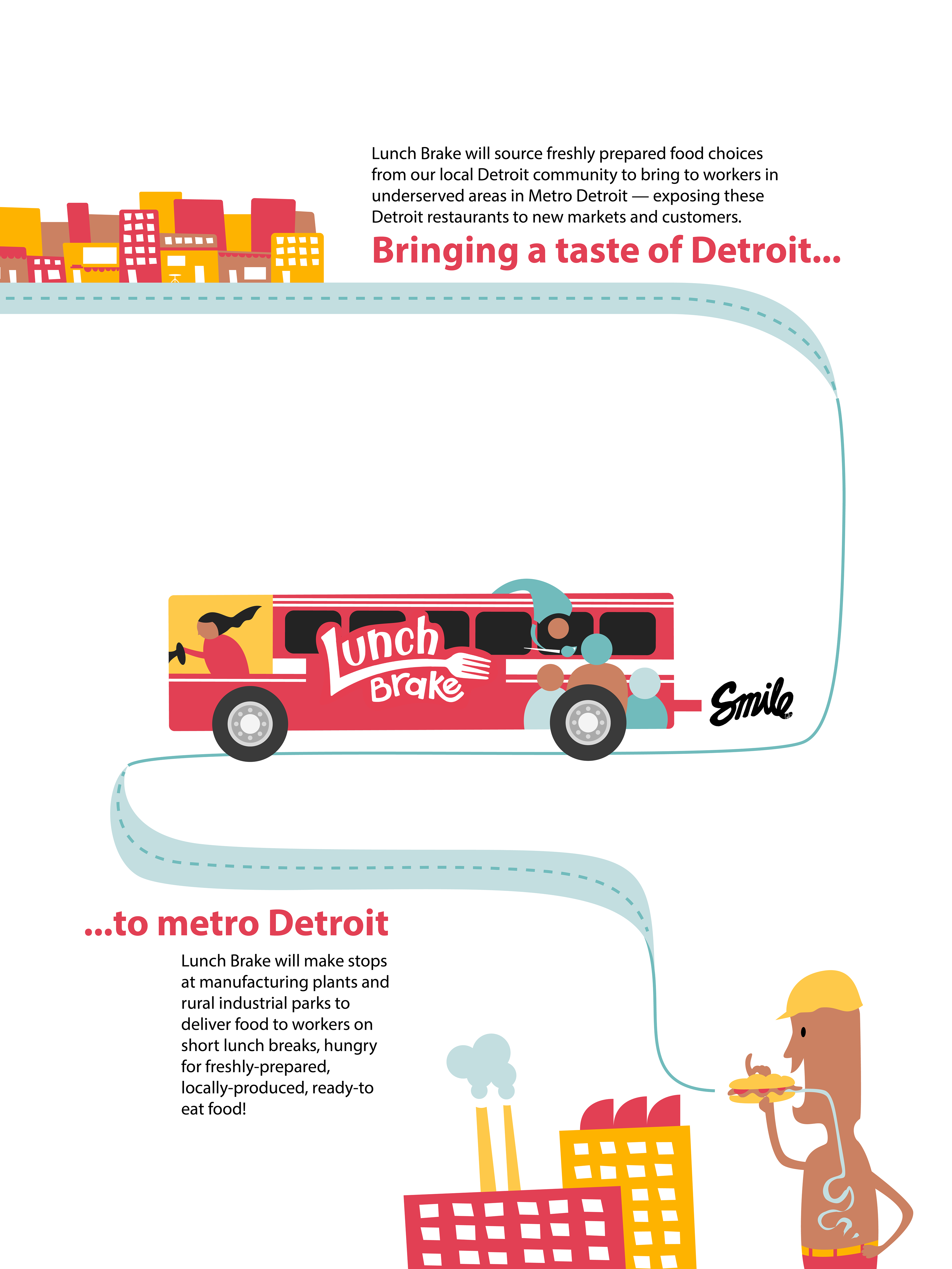 Ultimately, I resolved this issue and settled on our final illustration by changing the color, typographic color, line lengths, and shape of the text as well as adding the logo at the top left to direct the viewer's eye towards the initial body of text.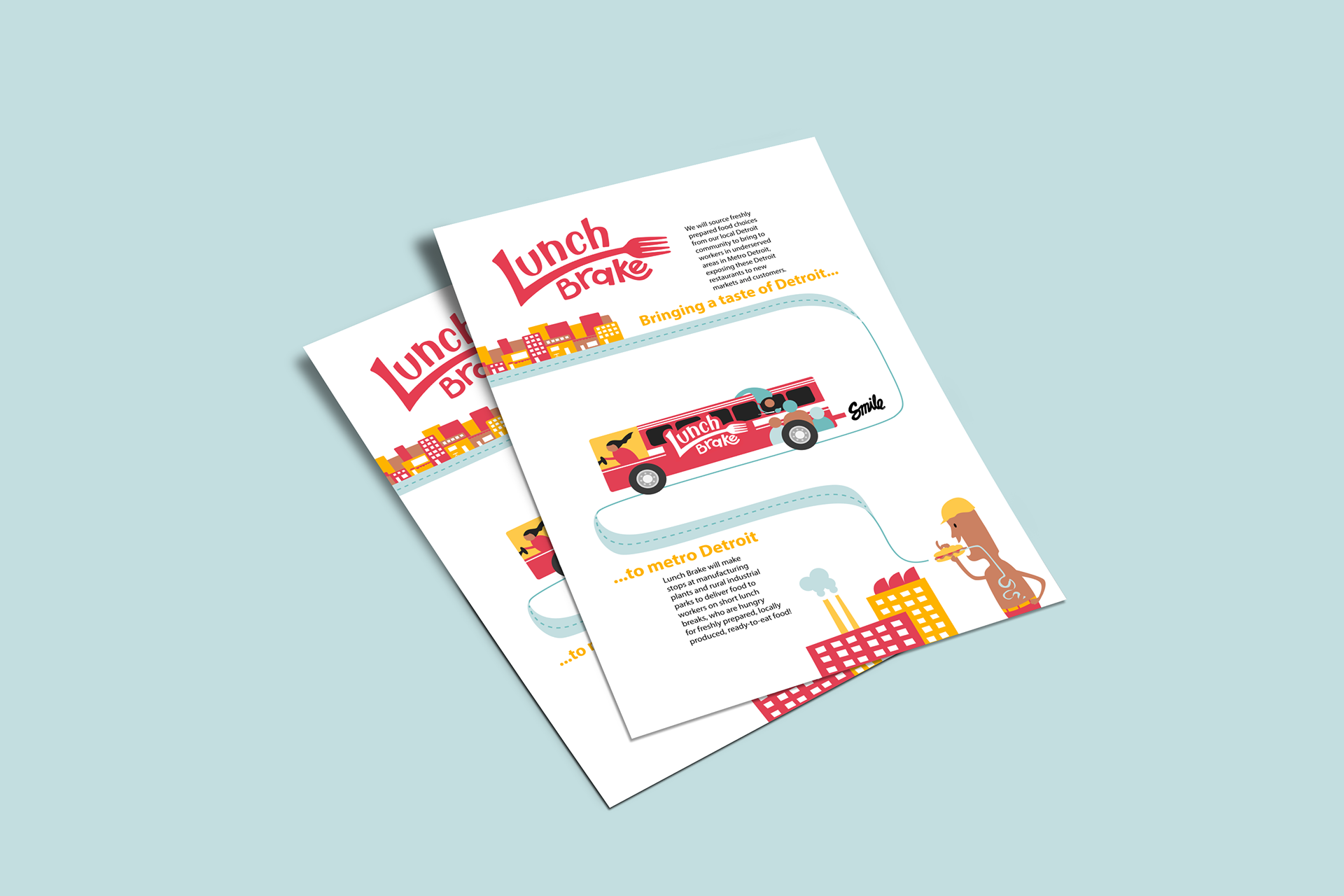 Website Design
Before beginning to design a new website for Lunch Brake, my team and I first did an analysis of Achsha's current website. We printed out her homepage and started my marking down the areas of improvement. Some key points included: 
1. Logo was sidelined on the landing page and not emphasized enough
2. The landing page did not create a single focal point for the visitor
3. Navigation flow was not consistent throughout pages of the website and did not link back to the home page.
4. Social media link buttons seemed irrelevant on the landing page since the social media accounts were not being used by Achsha for regular Lunch Brake updates.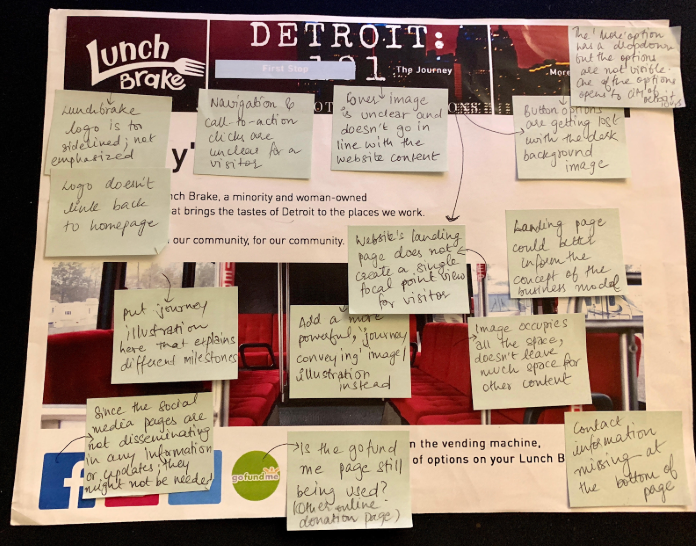 Next, we made some preliminary sketches for a website that would solve these problems. We decided to condense the information on the website into four major pages. This would simplify the navigation on the website and eliminate any outdated content.
1.
Landing/home page
: This is the first page that visitors see on the Lunch Brake website. The logo is clearly emphasized in the center and page buttons allow the user to navigate to the other three pages on the website.
2.
Learn more page
: This page introduces Lunch brake's concept as a business and illustrates how it would function once it is up and running.
3.
Partner with us page
: This page allows interested stakeholders to collaborate with Lunch Brake and contact Achsha directly.
4.
Support us page
: This page is meant for people who are interested in supporting Lunch Brake and donating/investing to make Achsha's idea a reality.
Since Lunch Brake really just needed a few pages, we didn't have to go into much detail with our sketches. Instead, we focused on writing copy to effectively communicate Lunch Brake's message. 
After writing copy and deciding on a website organization, we created a new and improved website for Achsha. We incorporated a version of the journey illustration to showcase her vision and simplified the website to only include necessary information.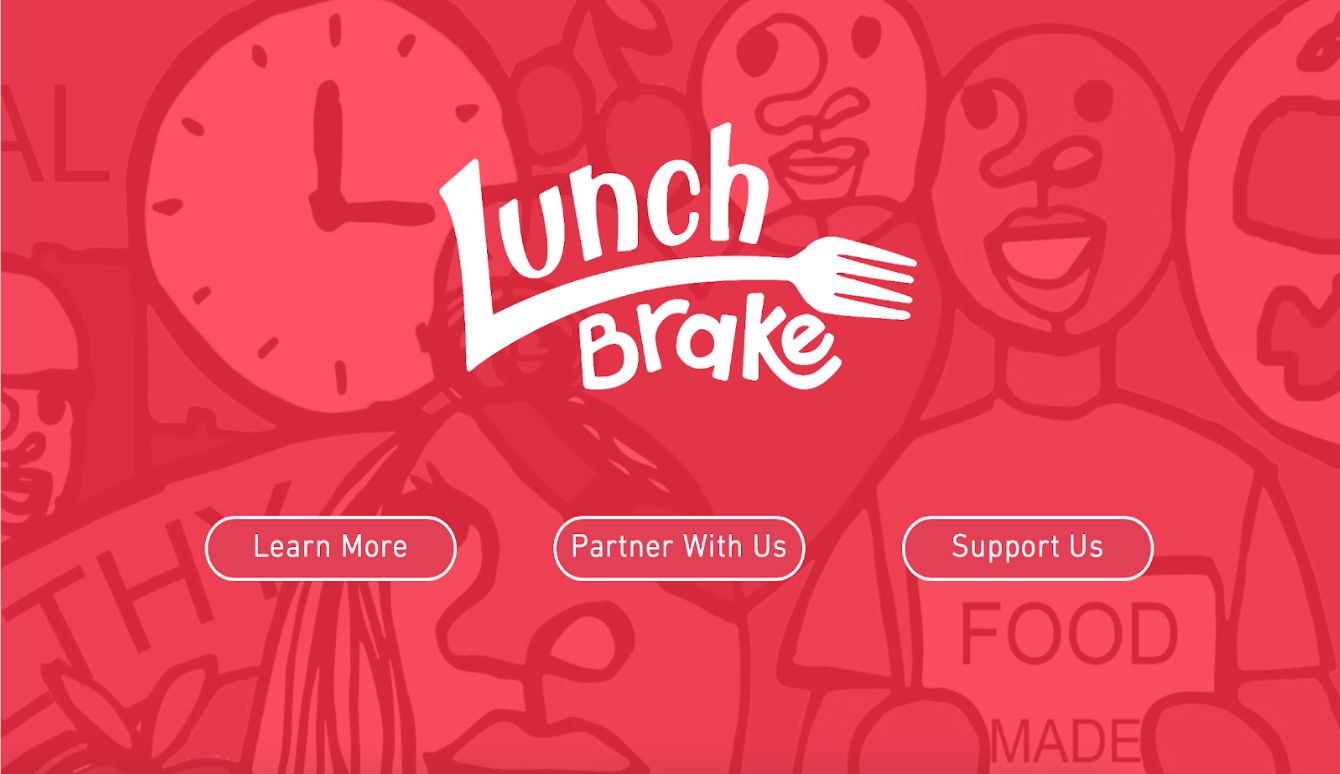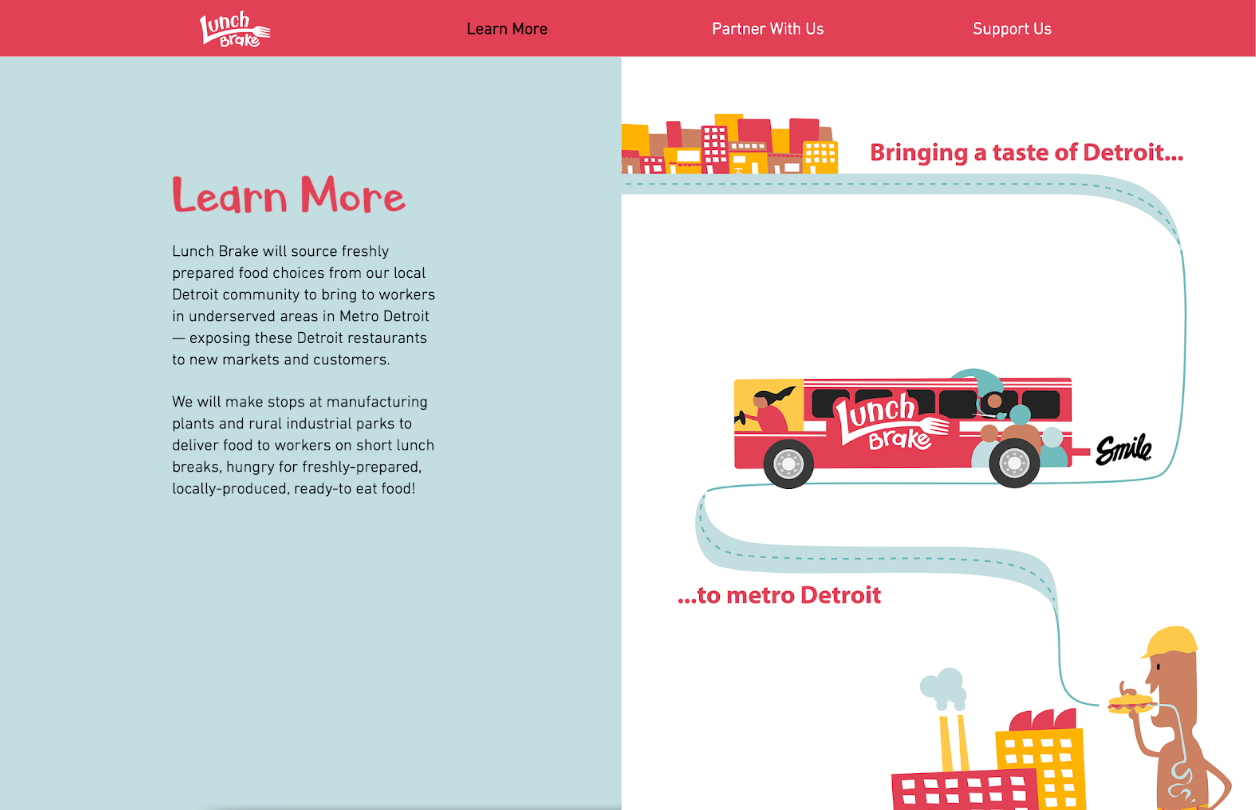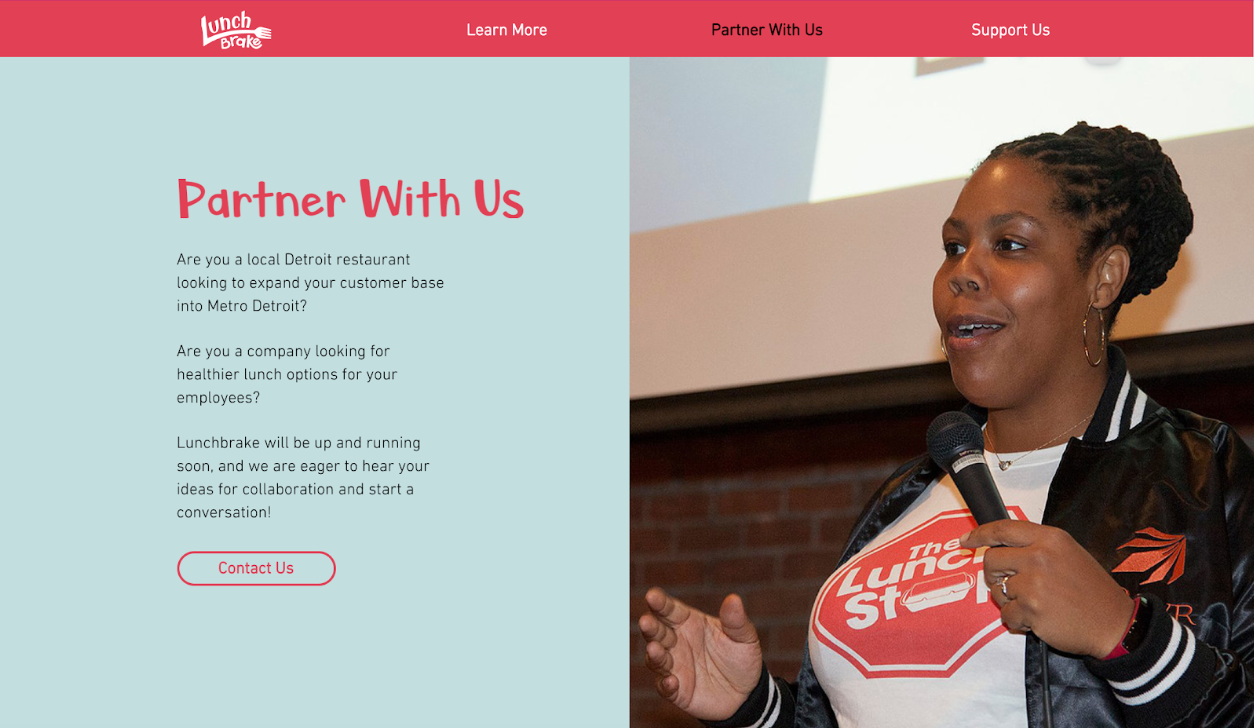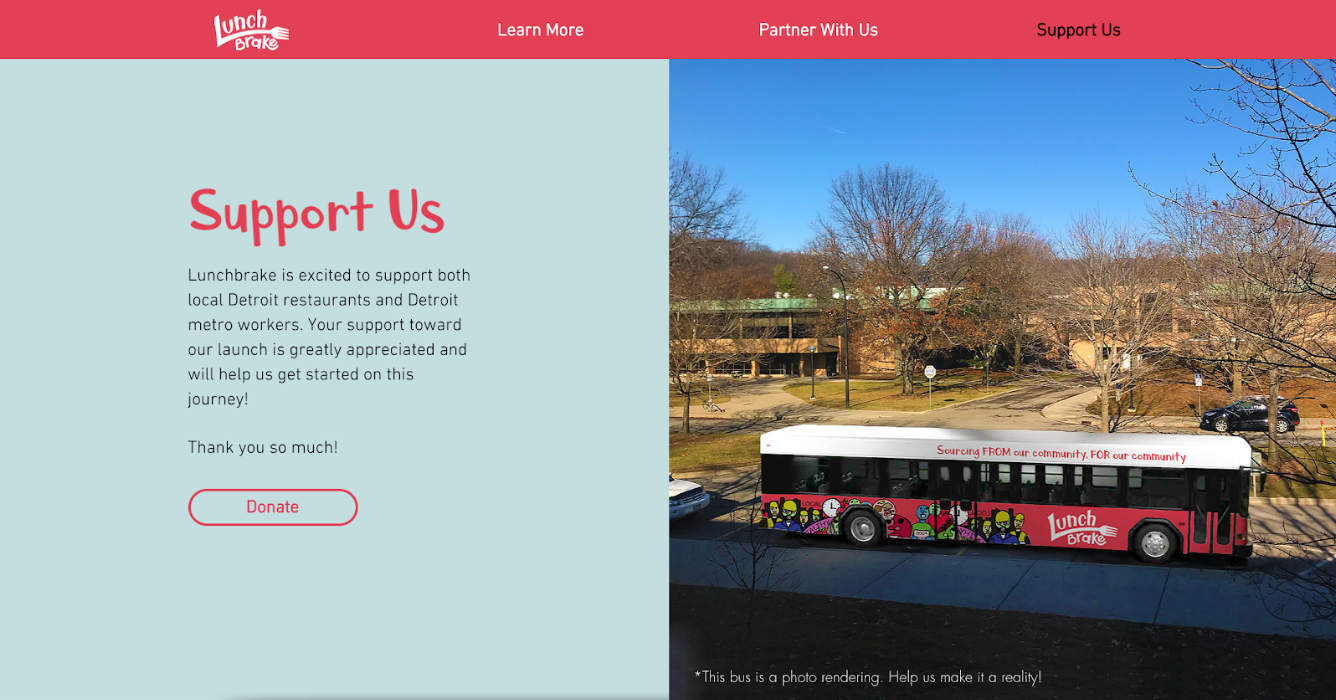 We tested our website to make sure it would function on both mobile and web layouts.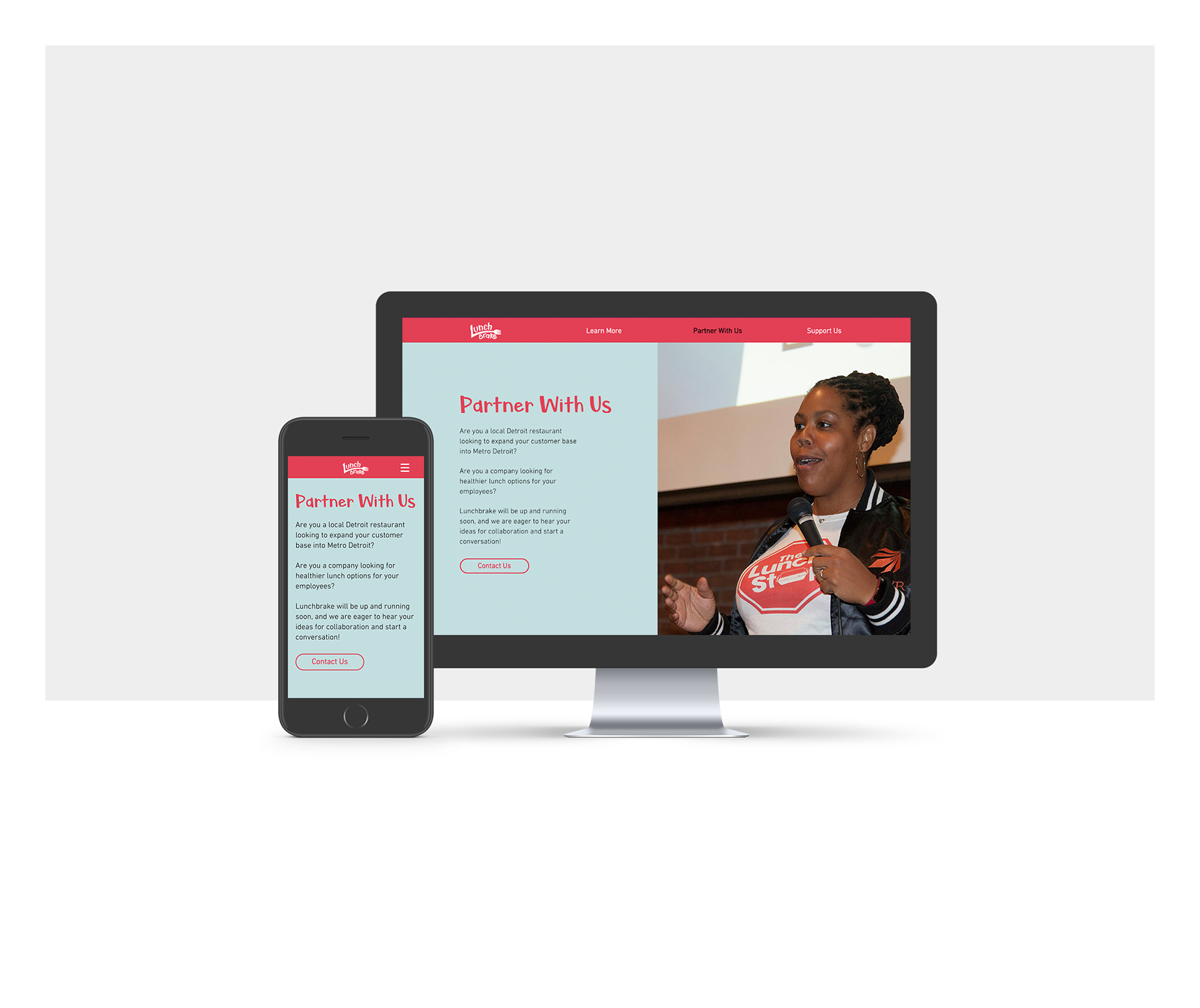 Bus/Cart Visualizations
The other members of my team took the lead on this portion of the project, while I spent my time on the journey illustration. Ultimately, the bus visualizations that my team created were used to help Achsha communicate her vision to future investors, partners, and donors. On the other hand, when we realized that the bus was not as realistic in the short term as Achsha thought, we presented the cart visualization to Achsha as a more reasonable short-term goal, hoping that this would help her embrace the journey and the current stage of her business.